Appointment System
Urgent / Acute Appointments
If you require an urgent / acute medical appointment, we advise you ring the surgery between the hours of 08:00 - 10:00 am. We will not be providing appointments to patients who walk-in to the Practice. Our staff are trained care navigators who will help you seek medical advice with the correct Health Care Professional. Please be prepared to give some information and help the care navigators so they can help you. We appreciate it is not always possible to ring between the hours or appointments may have been filled, however, we have a Duty Doctor Oncall each day who will provide medical advice if you feel your symptoms are urgent, who are available Monday-Friday until 18:30pm. Alternatively you can phone NHS Direct on 111 or visit their website on www.111.nhs.uk. NHS Direct offers free expert health information and advice 24 hours a day. For deaf people and those hard of hearing, a telephone services is available on 0845 606 4647. If English is not your preferred language, you can choose to use a confidential translation service. Whatever the day or time, if you or someone else experiences severe chest pain, loss of blood or suspected broken bones, go to your nearest accident and emergency department or call 999.
Routine (Non-Urgent) Appointments
If your condition is non-urgent, we advise you click on this link to refer you to our self- care page or alternatively, we offer a number of pre-book appointments which can be booked up to two weeks in advance. We recommend you ring anytime after 10:00am where the care navigators will help you. You may have to wait longer for an appointment if you want to see a particular GP.
We also provide appointments where you can book Online. Please click on the link to take you to the page. We recommend you register yourselves to utilise the service.
Tel: 01254 965150
Home Visits
Our doctors typically see four patients at the practice in the time it takes to do a single home visit. For this reason, we ask our patients to come to the practice if at all possible. However, this is not always the case, we can visit you at home if your condition means you cannot attend. If you are housebound, please phone the main switchboard before 12:00pm to arrange a visit. Please be prepared to tell the receptionist about your condition so we can appropriately arrange the visits. The doctor or nurse practitioner will want to speak with you first to see the best cause of action. Home visits are normally made after morning surgeries. We also refer patients to the Acute Visiting Service where a clinician outside our Practice will come to do the visit.
After 12:00pm requests for home visits will still be taken and assessed.
Extended Access Appointments
The Practice is a member of Blackburn with Darwen's Local Primary Care GP Federation. The Local Primary Care Federation runs a GP extended access service that provides additional appointments at four neighbourhood spoke surgeries.
Patients can be booked into one of the four spoke surgeries via the Practice Care Navigators accordingly.
Exceptions to Normal Opening Hours
Please see the Surgery Times section for dates when the practice is closed for Bank Holidays or Staff Training. If you call the surgery when we are closed you will be given information about the out of hours service.
Telephone Triage / Video Consultation
Due to the current Covid-19 Pandamic, majority of our appointments are Telephone Triaged. The clinician will firstly speak to you over the phone, if you wish a family member or a friend would be speaking on your behalf, please ensure you are available to provide consent. If the clinician feels you need to be seen, they will provide you with a time to come to the Practice. We advise you follow the guidelines of the Practice. The clinician may decide to do a video consultation or request photos to be sent so they may able to determine the outcome of your symptoms. Please ensure you have provided the correct mobile number.
Test Results
On average please allow 3-5 working days for your test results to come back from the hospital unless your doctor has advised otherwise. Please note that X-ray & MRI results may take up to 21 days. For your test results please telephone the main switchboard after 14:00pm. Sometimes, we cannot always give full results over the phone. If the result is complicated, or if the doctor wants to see you about the result, the clinician will ring you or Reception will ring you to offer you an appointment based on the clinicians advice. We will only give results to the person who has had the test.
Due to the number of Tests requested each day, it is impossible to get in touch with every patient, therefore, we would not ring patients back if the results have returned and actioned as Normal by the clinician. If you would like to know you results, we advise you sign up to our online services where you would be able to access your Health records or to ring us as above.
Cancel an Appointment
It is your responsibility to keep your appointments. Doctor's appointments are missed each and every day by people who either forget to show up and who fail to call and cancel their appointment.
Failing to attend or cancel your appointment puts additional pressure on your doctor and the cost to the NHS of is great. Therefore we implement a stringent 'did not attend' policy. You can cancel your appointment at any time up until two hours before you are due to arrive for your appointment. Remember if you cancel your appointment another patient can be seen.
WE STILL OPEN & PROVIDING SERVICES
GP practices in Lancashire and South Cumbria are open and continue to provide services as they have done throughout the pandemic. This means that for patients, their GP practice is open and providing GP services, with face to face appointments available to those who need them.
The threat of infection from COVID-19 still exists within our communities, and locally patients are being asked to continue to follow guidance in place and take the necessary precautions such as wearing face coverings and practicing good hygiene.
GP practice buildings are public buildings and as such must be kept Covid-secure. Your GP practice will already have a process in place for managing entry into the premises to help minimise the risk of anybody spreading the virus. Please continue to follow this.
New ways of providing GP services have been introduced in order to maintain access to your GP practice team while protecting you, others and staff. Triage (making an assessment of your condition and prioritising care accordingly) is an important part of how GP practices work. This has always been in place but has been vitally important during the pandemic.
GP practices are open and have been providing GP services throughout the COVID-19 pandemic. They have learned during the pandemic, that they can conduct consultations very well with the vast majority of patients using digital technology. The majority of common conditions can be assessed and diagnosed by your Doctor by telephone or video consultation. They are experienced and skilled in doing this. Using technology like this will help to protect you, your family and loved ones - and GP practice staff from the potential risk of the virus. For many people, telephone and video consultations offer a more convenient way of speaking with a healthcare professional.
GP Practices have been busy throughout the pandemic continuing to provide support to patients as well as being an important part of the Covid vaccine delivery programme. Patients are being reminded that staff are here to help and should be treated with kindness and respect.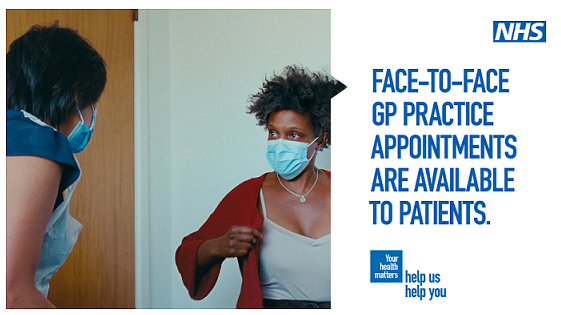 Text Reminder Service
We have a texting service which allows you to receive confirmation and reminders about your appointments.
To have this service you will need to register by completing a consent form.
Please remember to update your contact details with us when you change address, telephone numbers and email address.